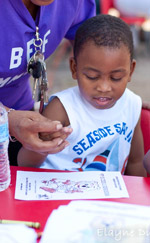 We are always looking for help with our events and classes. If you have a heart for mentoring and want to impact your community, then you have come to the right place. We would not be where we are today if it wasn't for our selfless volunteers.

If you are interested in volunteering for OPM, please fill out the Volunteer Application Form and send to us by mail, fax or email.

Or, if you have any questions or want more information, email us at volunteer@opmnig.org and we can get you plugged in right away!